Know the Essentials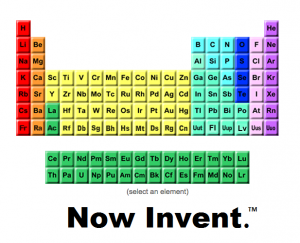 American Elements.com posts an interactive MAP of basic physical materials shown above, with code-abbreviations, then states a straight-forward call to action which is facilitated by detailed information about each unit, including properties, safety data, products, research and isotopes, plus hot topics like nanotechnology, sputtering targets, rare earths, green technology, alternative energy, fuel cells, ultra high purity, solar energy, bio-medical grade metals and alloys, metal foams, hydrogen storage materials, and battery technology.
With even more urgency regarding your creative empowerment, WordsAhead posts its MAP of basic language/speech units (not yet interactive) and also invites you to take action:
HEAR the sounds.  SAY the sounds.  SPELL the sounds.  READ!
Here are first-syllable vowel sounds:
V01/a/ Actinium [Ac]
V01/a/ Antimony [Sb]
V01/a/ Astatine [At]
V01/a/ Cadmium [Cd]
V01/a/ Calcium [Ca]
V01/a/ Californium [Cf]
V01/a/ Francium [Fr]
V01/a/ Gadolinium [Gd]
V01/a/ Gallium [Ga]
V01/a/ Hafnium [Hf]
V01/a/ Lanthanum [La]
V01/a/ Manganese [Mn]
V01/a/ Magnesium [Mg]
V01/a/ Platinum [Pt]
V01/a/ Scandium [Sc]
V01/a/ Tantalum [Ta]
V01/a/ Thallium [Tl]
V02/i/ Indium [In]
V02/i/ Iridium [Ir]
V02/y/ Ytterbium [Yb]
V02/y/ Yttrium [Y]
V02/i/ Bismuth [Bi]
V02/i/ Lithium [Li]
V02/i/ Livermorium [Lv]
V02/i/ Nickel [Ni]
V02/i/ Silicon [Si]
V02/i/ Silver [Ag]
V02/i/ Tin [Sn]
V02/i/ Zinc [Zn]
V02/y/ Dysprosium [Dy]
V02/y/ Krypton [Kr]
V03/o/ Osmium [Os]
V03/o/ Oxygen [O]
V03/O/ Copper [Cu]
V03/o/ Phosphorus [P]
V03/o/ Strontium [Sr]
V04/u/ Rutherfordium [Rf]
V04/u/ Sulfur [S]
V04/u/ Tungsten [W]
V04/e/ Selenium [Se]
V04/a/ Aluminum [Al]
V04/a/ Americium [Am]
V04/a/ Palladium [Pd]
V04/a/ Samarium [Sm]
V04/a/ Vanadium [V]
V04/o/ Copernicium [Cn]
V04/o/ Molybdenum [Mo]
V04/o/ Polonium [Po]
V04/o/ Promethium [Pm]
V05/e/ Flerovium [Fl]
V05/e/ Neptunium [Np]
V05/e/ Mendelevium [Md]
V05/e/ Technetium [Tc]
V05/e/ Tellurium [Te]
V05/ea/ Lead [Pb]
V05/oe/ Roentgenium [Rg]
V06/a/ Barium [Ba]
V06/a/ Praseodymium [Pr]
V06/a/ Radium [Ra]
V06/a/ Radon [Rn]
V07/i/ Iodine [I]
V07/i/ Iron [Fe]
V07/i/ Niobium [Nb]
V07/i/ Nitrogen [N]
V07/i/ Titanium [Ti]
V07/ei/ Einsteinium [Es]
V07/ei/ Meitnerium [Mt]
V07/y/ Hydrogen [H]
V08/o/ Bohrium [Bh]
V08/o/ Boron [B]
V08/o/ Bromine [Br]
V08/o/ Chlorine [Cl]
V08/o/ Chromium [Cr]
V08/o/ Cobalt [Co]
V08/o/ Gold [Au]
V08/o/ Holmium [Ho]
V08/o/ Nobelium [No]
V08/o/ Potassium [K]
V08/o/ Protactinium [Pa]
V08/o/ Rhodium [Rh]
V08/o/ Sodium [Na]
V08/o/ Thorium [Th]
V08/uo/ Fluorine [F]
V09/u/ Ununoctium [Uuo]
V09/u/ Ununpentium [Uup]
V09/u/ Ununseptium [Uus]
V09/u/ Ununtrium [Uut]
V09/u/ Dubnium [Db]
V09/u/ Lutetium [Lu]
V09/u/ Plutonium [Pu]
V09/u/ Rubidium [Rb]
V09/u/ Ruthenium [Ru]
V09/u/ Thulium [Tm]
C39+V09/u/ Uranium [U]
C39+V09/eu/ Europium [Eu]
V10/e/ Cesium [Cs]
V10/e/ Helium [He]
V10/e/ Neodymium [Nd]
V10/e/ Neon [Ne]
V10/e/ Rhenium [Re]
V10/e/ Xenon [Xe]
V10/ea/ Seaborgium [Sg]
V11/a/ Argon [Ar]
V11/a/ Arsenic [As]
V11/a/ Carbon [C]
V11/a/ Darmstadtium [Ds]
V11/a/ Hassium [Hs]
V11/aw/ Lawrencium [Lr]
V12 (none)
V13 (none)
V14 (none)
V15/ir/ Zirconium [Zr]
V15/er/ Erbium [Er]
V15/er/ Berkelium [Bk]
V15/er/ Beryllium [Be]
V15/er/ Cerium [Ce]
V14/er/ Fermium [Fm]
V15/er/ Germanium [Ge]
V15/er/ Mercury [Hg]
V15/er/ Terbium [Tb]
C39+V15/ur/ Curium [Cm]