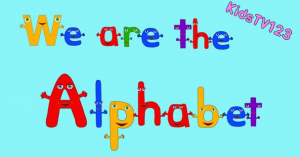 More than 42 million people have watched these colorful graphemes as they stretch and spin.  Many speech sound units are ignored because the lesson is ABC-based.
V01/a/ alligator, ax, apple, ambulance
V02/i/ igloo, internet, iguana, instruments
V03/o/ orange, octopus, olive, ostrich
V04/u/ umbrella, up, underwear, under
V05/e/ escalator, elephant, elevator, egg
V06 ???
V07 ???
V08 ???
V09 ???
V10 ???
V11 ???
V12 ???
V13 ???
V14 ???
V15 ???
C16/p/ pencil, panda, pig, penguin
C17/b/ bat, ball, bus, bed
C18/t/ television, ten, tomato, tent
C19/d/ dolphin, dog, dinosaur, duck
C20 ???
C21/j/ jello, jacket, jam, juice
C22/c/ cat, cow, car, cap
C22/k/ kangaroo, koala, kite, key
C22+C28/x/ x-ray, fox, box
C22+C36/qu/ quiet, question, queen, quilt
C23/g/ girl, gorilla, guitar, grapes
C24/f/ feet, fish, frog, fire
C25/v/ volcano, violin, vacuum, van
C26 ???
C27 ???
C28/s/ sandwich, sun, sock, sausage
C29/z/ zig-zag, zipper, zebra, zoo
C29/x/ xylophone
C30 ???
C31 ???
C32/h/ hippo, helicopter, hat, horse
C33/m/ monkey, moon, milk, mouse
C34/n/ nose, net, no, note
C35 ???
C36/w/ web, watch, weather, windmill
C37/l/ lemon, lollipop, leg, lion
C38/r/ ring, robot, rocket, rabbit
C39/y/ yo-yo, yellow, yogurt, yacht
[Watch YouTube WE ARE THE ALPHABET]
===================
ABCs predominate in Highlights PUZZLEMANIA workbook activities.
"Music Q's" does not help learner know that vowels are sounds, not letters.  While some sound-letter patterns match letter-sound patterns, some do not and are misrepresented.
MISSING VOWELS
MSSNG VWLS
V02/I/ V02/I/ V13/OW/ V05/E/
THE STAR-SPANGLED BANNER
TH STR-SPNGLD BNNR
V04/E/ V11/A/ V01/A/ V04/~E/ V01/A/ V15/ER/
HAPPY BIRTHDAY TO YOU
HPPY BRTHDY T Y
V01/A/ V10/Y/ V15/IR/ V06/AY/ V09/O/ V09/OU/
JINGLE BELLS
JNGL BLLS
V02/I/ V04/~E/ V05/E/
YANKEE DOODLE
YNK DDL
V01/A/ V10/EY/ V09/OO/ V04/~E/
TAKE ME OUT TO THE BALL GAME
TK M T T TH BLL GM
V06/A_E/ V10/E/ V13/OU/ V09/O/ V04/E/ V11/A/ V06/A_E/
"Word for Words" requires using Letters /U/, /M/, /B/, /R/, /E/, /L/, /L/, /A/ to make 15 other words – letter-by-letter – sea, bus, bell, Mars, meal, ball, bear, ears, mule, blue, same, smell, lumber, smaller, marbles.  This task does not promote reading competence because, if a child knew literal sound-spellings, she would recognize that words are built sound-by-sound.  Here are errors:
V04 spelled Letter /U/ ≠ C39+V09/u_e/ mule; V09/ue/ blue
C38 spelled Letter /R/ ≠ V15/er/ lumber, smaller
V05 spelled Letter /E/ ≠ V06/a_e/ same; V06/ea/ bear; C39+V09/u_e/ mule; V09/ue/ blue; V10/ea/ ears, sea, meal; V15/er/ lumber, smaller
C37 spelled Letters /LL/ ≠ C37/l/ meal, mule, blue, lumber, marbles
V04 spelled Letter /A/ ≠ V06/a_e/ same; V06/ea/ bear; V10/ea/ ears, sea, meal; V11/a/ Mars, ball, smaller, marbles
"Scrambled Birds" is a game to unscramble letter-by-letter.  Compare to bird names scrambled sound-by-sound and syllable-by-syllable.
DOVE
DEVO
C25/V/ V04/O_E/ C19/D/
CROW
CORW
C38/R/ V08/OW/ C22/C/
HAWK
WKAH
C22/K/ V11/AW/ C32/H/
SWAN
NASW
C36/W/ V11/A/ C34/N/ C28/S/
ROBIN
BINOR
C34/N/ V02/I/ C38/R/ V03/O/ C17/B/
STORK
RKOST
C22/K/ C38/R/ V08/O/ C18/T/ C28/S/
GOOSE
SOOGE
C28/S/ C23/G/ V09/OO_E/
PIGEON
PEIGON
C21/G/ V04/EO/ C34/N/ C16/P/ V02/I/
PARROT
TORRAP
C38/R/ V04/O/ C18/T/ C16/P/ V01/A/
SPARROW
ASPRRWO
C38/R/ V08/OW/ C28/S/ C16/P/ V01/A/
PENGUIN
UPENNING
V02/I/ C35/N/ C23/G/ V09/U/ C16/P/ V05/E/ C34/N/
FLAMINGO
GLOMIFAN
C23/G/ V08/O/ C33/M/ V02/I/ C35/NG/ C24/F/ C37/L/ V04/A/
CARDINAL
LARDCINA
C34/N/ V04/A/ C37/L/ C19/D/ V02/I/ C22/C/ V11/A/ C38/R/